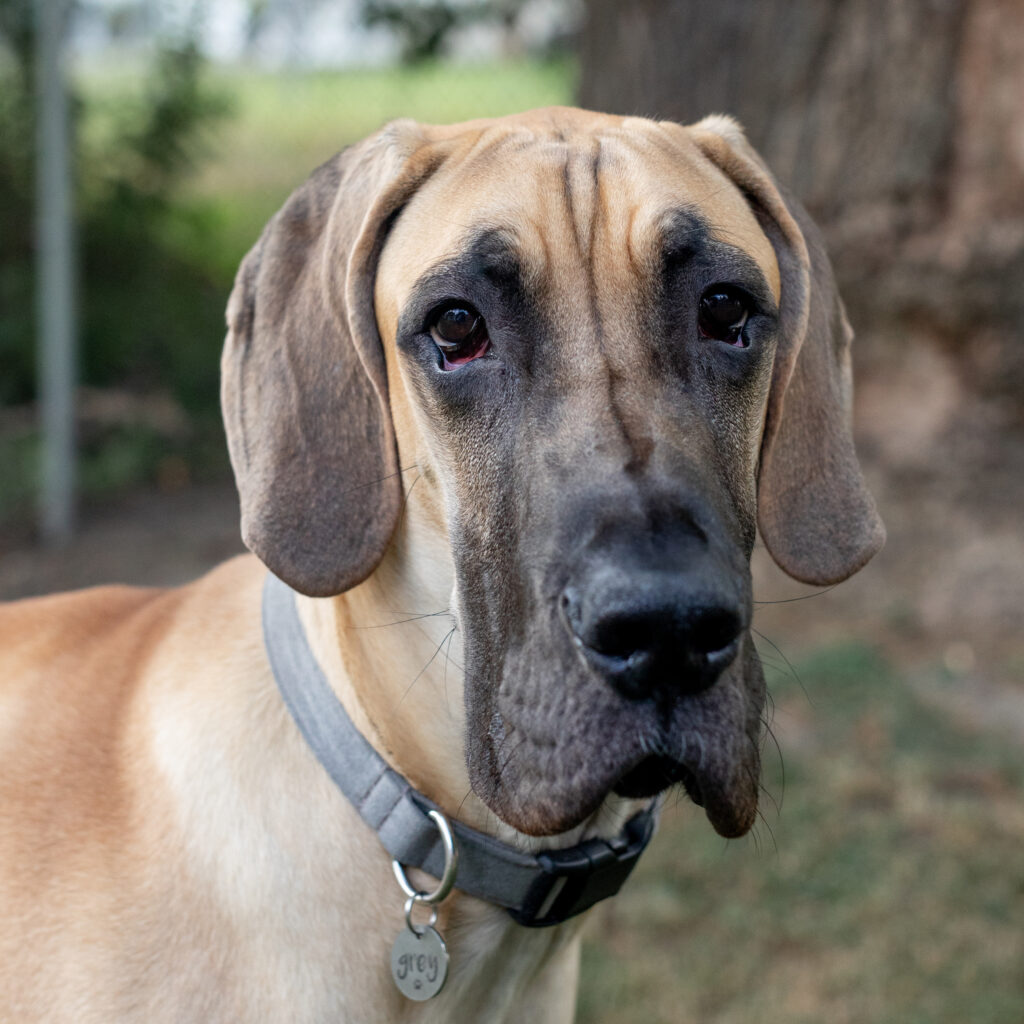 Hey, guys – I'm Grey! I'm here to tell you the answers to the questions we hear ALL the time!
Q: What kind of dog are you?
A: I'm a purebred fawn Great Dane.
Q: Where did your mom get you?
A: I came from WRF Great Danes in Venetia, PA. My momma says Micha is an incredible breeder and she's so lucky to have been trusted with me!
Q: How much do you weigh?
A: Right now, I'm 165 lbs.
Q: Are you done growing?
A: Just about! I'm pretty much as tall as I'm going to get, but I'll "thicken out" as I mature more until three years old. Momma is expecting me to get to about 180 lbs.
Q: How much do you eat?!
A: I'm a raw-fed boy, so this is different than measuring cups of kibble that you might be used to. I'm currently eating 4lbs a day.
Q: How tall are you when you stand on two legs?
A: If I stretch as tall as I can, I'm about 6'6″.
Q: What does it mean to be a Therapy Dog?
A: Therapy Dogs are certified to volunteer at facilities such as hospitals, schools, and nursing homes to visit and spread joy!
Q: Is that the same as a Service Dog?
A: Nope! Service Dogs are trained to help their owners with a specific medical need. Therapy Dogs are essentially a pet with a license (and the required temperament and manners) to volunteer with their owner! 🙂
Q: How much training did it require to earn your Therapy Dog certification?
A: From the first day Momma brought me home, we began training and socialization. Even now, we treat every day and every experience as a training opportunity. We did about 6 weeks of group obedience classes when I was just a little puppy (from 8 weeks to 14 weeks old), and then the pandemic kind of brought our formal training to a halt. We embraced the time at home to work on earning three AKC Trick Dog titles, and that absolutely helped to grow our bond and increased my "eager to please" attitude! Once things started opening back up, we did about four therapy dog prep classes, and I took my test at 14 months old!
Q: Who are you certified through?
A: We've got our certification through Alliance of Therapy Dogs! We love them for their flexibility and hands-off approach. We get to visit wherever we'd like, and they support our efforts without stifling our freedom to create our own schedule and choose our own facilities!
Q: Was it hard to pass the test? How can I get certified with my own pup?
A: You can jump on the ATD website to get an idea of what's tested for certification. The test is largely temperament based, with very basic obedience and manners being a requirement, as well.