The decision to feed Grey a raw diet came long before he ever existed. When my first Great Dane, Emmet, came home, he had horrible digestive issues and a raw diet was the only thing that worked to give him a normal and healthy life (along with some awesome supplements I will forever recommend, too – more on this later!). I was hesitant to start feeding raw at first, wanting to know more about it before starting, but the decision to just jump in and figure it out was among the best decisions I made for Emmet; I knew then that I would never feed kibble again; a species-appropriate raw diet will be my go-to for life!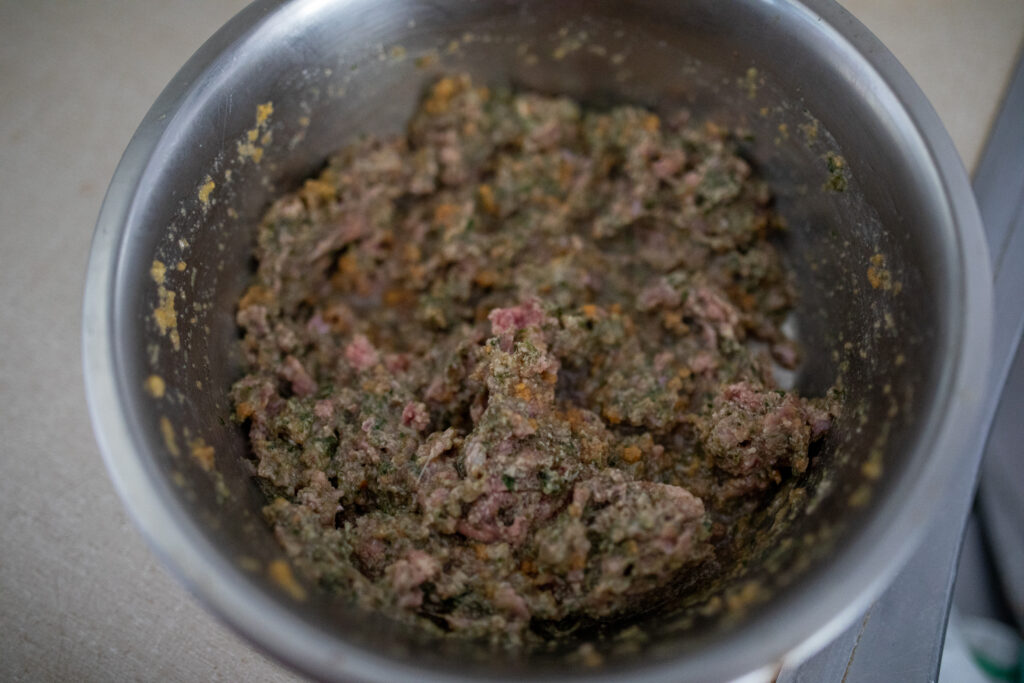 Below are the links to some informational videos about a raw diet – a great starting point for someone who is curious to learn more! Dr. Karen Becker is a well-known name in the world of holistic and integrative veterinary medicine. In these videos, she gives a great overview of the reasons for choosing a raw diet for your pets, and of course talks about the many benefits of feeding a species-appropriate diet.
Part One | Part Two | Part Three
When I first started feeding raw to Emmet back in early 2011, I started off with chicken backs, chicken quarters, and turkey necks from the grocery store or local butcher. E had some general digestion issues, and I found within a few months that although he was much healthier than he had been on kibble, he was still vomiting up too many meals for my liking. This, along with my concerns that his diet wasn't balanced enough (there are proper ratios of bone, organ, and meat to adhere to for a balanced diet) were the deciding factors that pushed me towards finding an already-ground, pre-packaged and balanced option to continue feeding raw more confidently.
I began shopping around for the right fit, and posted in a Great Dane group on Facebook for some suggestions. A Facebook friend of mine (who was of course a fellow Dane momma) reached out to let me know that her daughter owned a raw food company & that they shipped throughout the country, and I loved the idea of supporting a friend's small business and saving money compared to the larger pre-packaged raw food companies that I was able to get locally (feeding a 150+lb dog is not cheap no matter how you cut it!). Even with shipping from Rockport, Indiana, Shebang's is more affordable than so many larger competitor companies.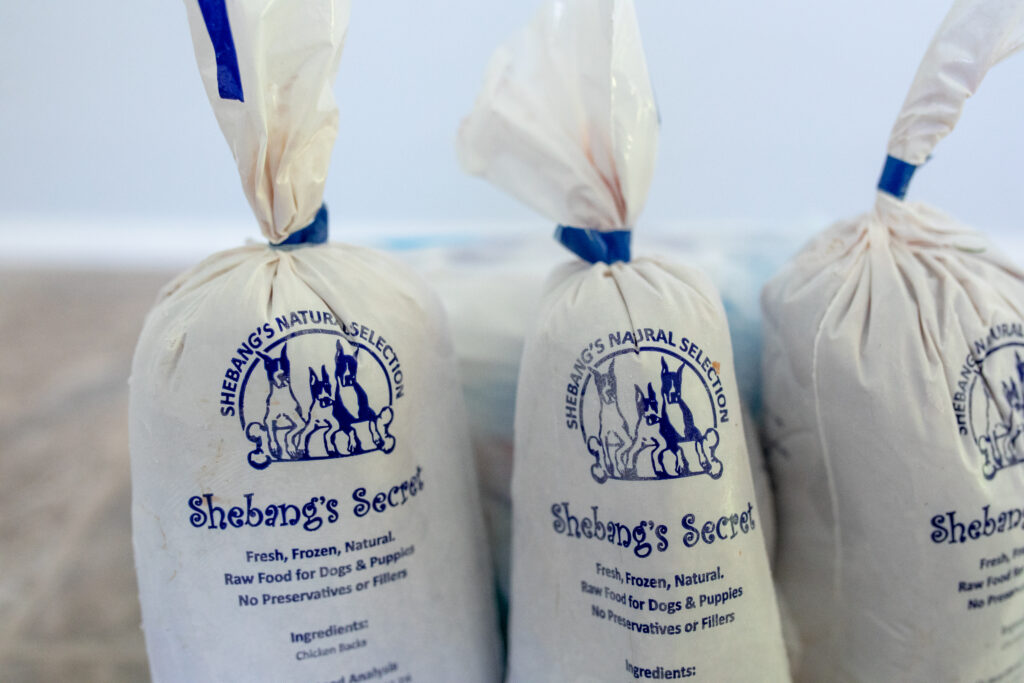 The benefit of affordability pales in comparison to the wealth of knowledge I have found in Charity, the owner of Shebang's. She's been breeding and showing champion Great Danes for many years, and I can't tell you how helpful she's been in answering my every frantic call, text, and Facebook message since I "met" her online ten years ago! We recommend Shebang's so highly – look no further if you want to jump into raw feeding and trust that you're giving your dog (or cat or ferret!) everything they need to thrive.
You can find out what treats and supplements I love for Grey on the Favorite Things page, along with all of the other stuff we love!