"Why do you have a brown dog named Grey?" I named this fawn boy Grey just so that people would ask. I love any opportunity to talk about Grey's namesake. He was named after my first Dane, my best friend throughout the entirety of my 20's, my heart dog.
During the winter of 2009-2010, I was a college junior at Ohio State, living just off-campus in an apartment with a roommate. We weren't allowed to have pets, but I was desperately missing my black lab "siblings" back home at my parents' house, and I was itching for a puppy. I started to plan for my senior year: searching for a pet-friendly apartment and looking for Great Dane breeders, because why not make your first dog your dream dog? 🙂
Emmet had a name long before he ever existed. I'm a planner, after all. I remember having a storage bin in our shared apartment closet with dog toys, months before I'd even found a breeder. My roommate surely thought I was insane. "Giant breeds mean giant toys, and they're really expensive," I'd say. "Better to get some of these purchases out of the way than to have to spend more all at once when I bring home a puppy!" I did all of the research on dog food, planned for training classes (and bought gift cards to use later for this because I was a broke college kid and let's face it, I'm still kinda bad at saving 😉 ).
At some point during all of my research and planning, I decided that I really wanted my first Great Dane to become a therapy dog so that he could visit hospitals and schools. I did a lot of volunteer work in college, and I wanted him to be by my side always. I just knew he was going to be the most awesome companion for all of my adventures; I had it all planned out and just knew he'd be perfect.
In the spring, I found a breeder who had puppies due in July, meaning I'd bring home my pup just in time to move into my new apartment that fall. I had my name on her waiting list, and I had requested a merle male – little did I know that out of 13 surviving puppies (16 in the litter total with three who sadly didn't make it), there was one merle boy. My boy.

I visited Emmet at two weeks old, then again at four weeks, and six, and brought him home at almost 9 weeks due to existing vacation plans making me wait a few extra days. During my visits, I saw his personality developing: he was a bossy little guy with his littermates. He was ornery and wanted nothing to do with being held when there was playing to be done. By six weeks, the breeder warned me to consider choosing another puppy, because his strong personality was surely going to be an issue for a petite single girl. Of course, my response was "no way, he's mine."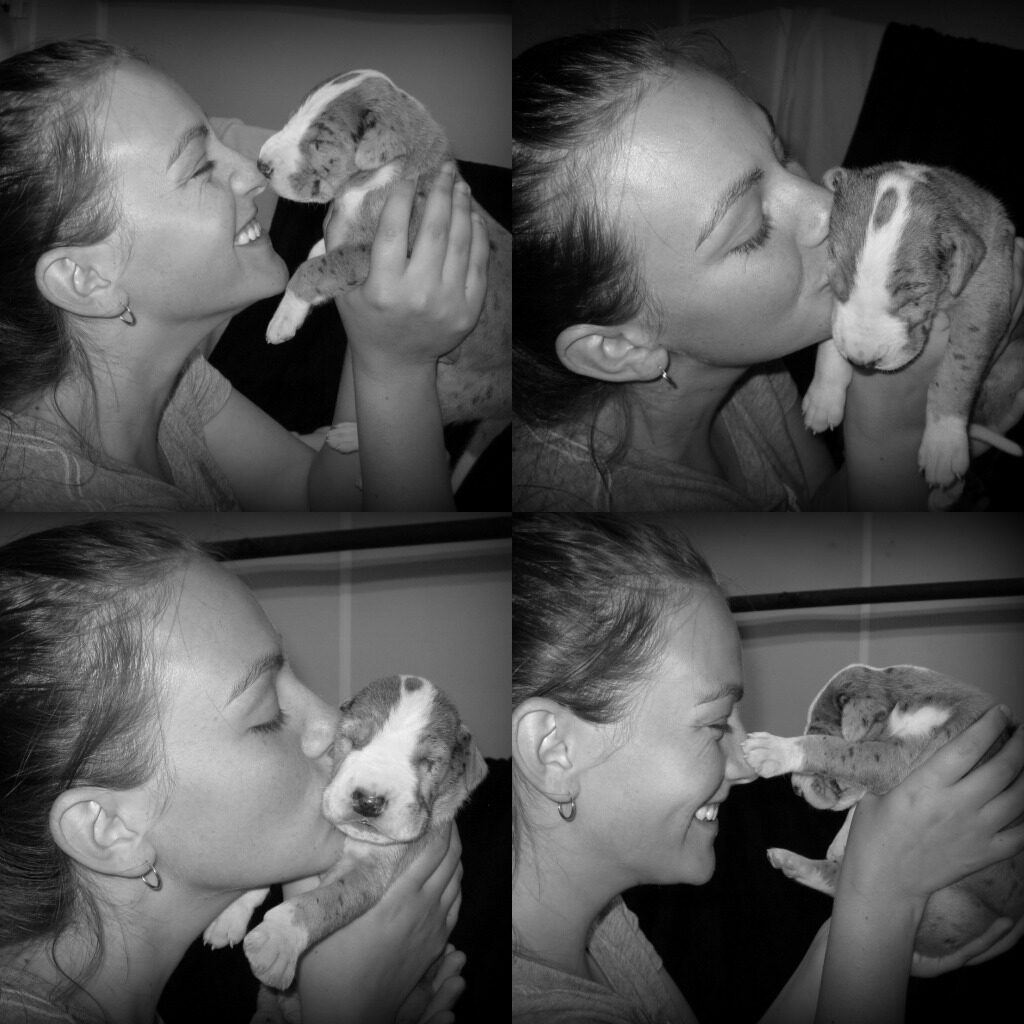 Emmet came home on September 11, 2010. We spent a few nights at my parents' house, then it was off to Columbus where I'd start my final year of college that month.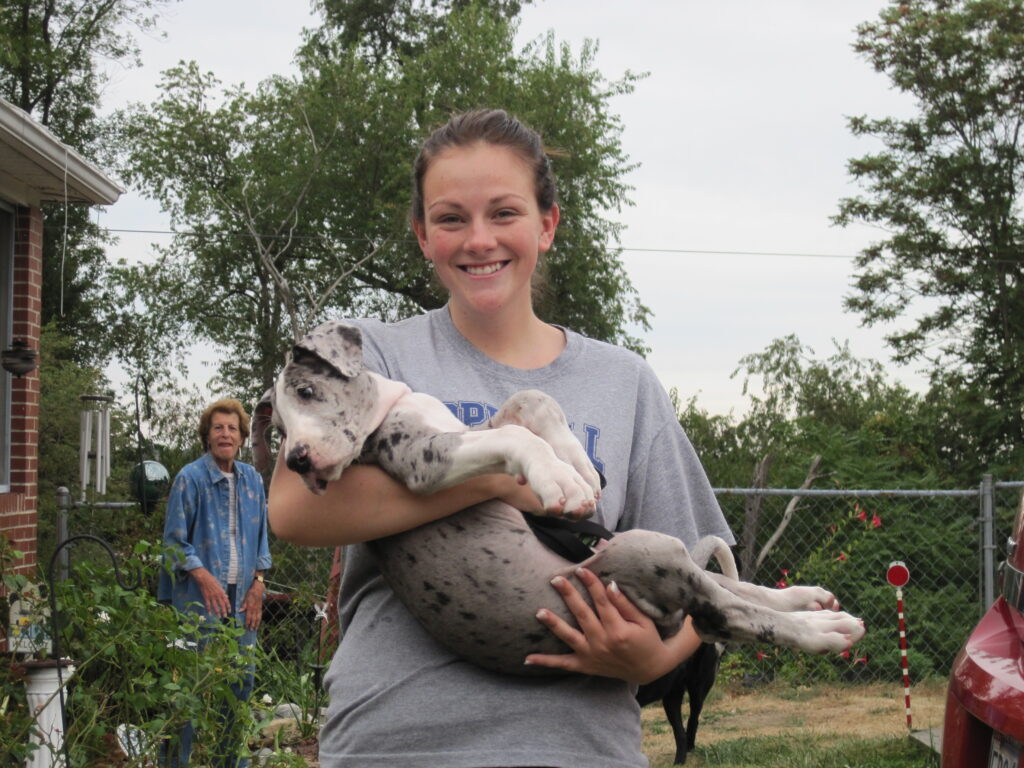 Emmet was an extremely easy puppy in so many ways. He was pretty quick to housebreak, he slept hours and hours and generally listened very well. He was eager to please and easy to train, but also that stubborn and ornery streak was absolutely always present.
The most challenging factor of puppyhood with E was his tummy issues. He came home from the breeder's house with awful diarrhea, and I couldn't seem to get it to stop for more than a few days even with the best foods on the market. I had so carefully selected a food, and you're "not supposed" to switch kibbles all willy-nilly, but my puppy was sick all the time, and something had to give. Our vet at the time suggested he may have IBD – this was never confirmed via testing, but I'd bet on it to this day due to all of the issues we had spanning the course of his life. At seven months old, a dear friend of mine (thanks to the wonderful world of social media) talked me into raw feeding and adding a digestive supplement – these two things combined were exactly what Emmet needed to finally thrive!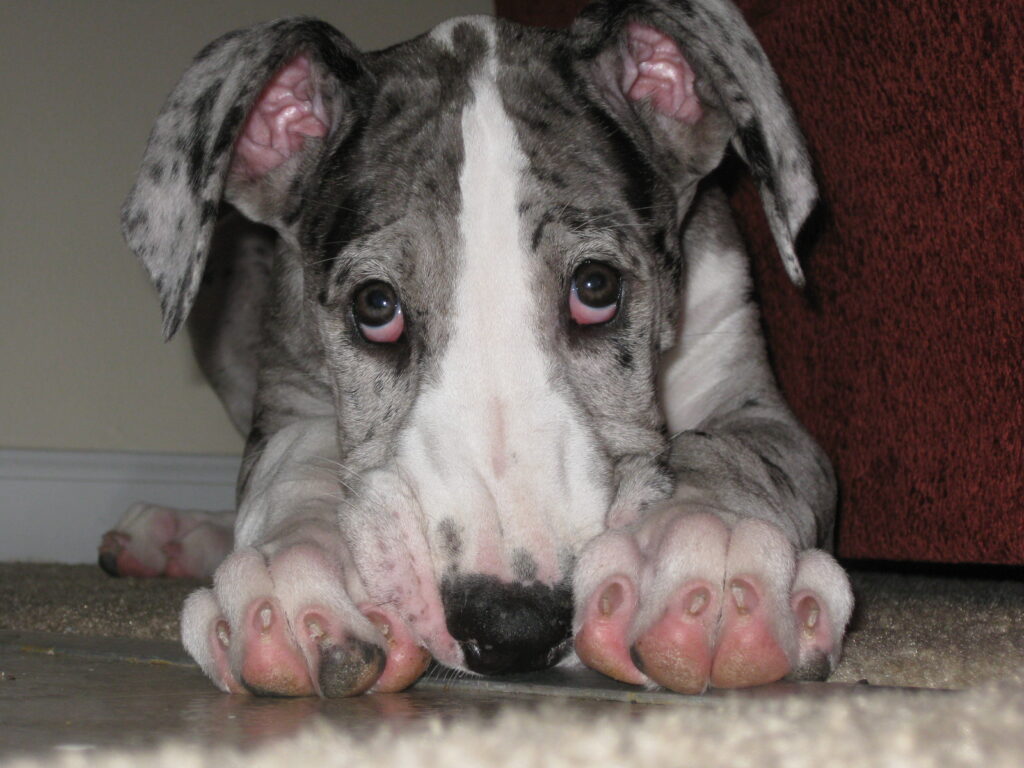 Emmet was my ride-or-die, my best friend. He went everywhere with me and I was utterly obsessed with him. He was by my side for every up and down that life had to offer, and I can't imagine having gone through all of the life experiences of my twenties without him. I always said to him, "I'll never know a truer friend." His devotion to me was unwavering, as was mine to him.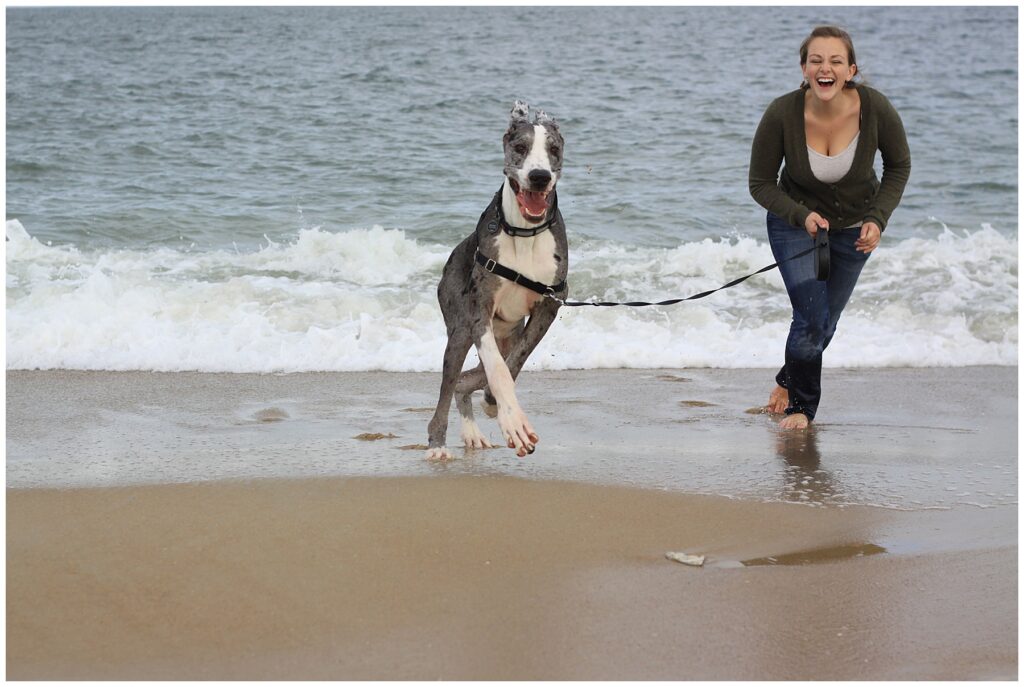 He wasn't perfectly behaved by any means, but he loved training, so I decided to get him involved in some group classes again, thinking that maybe we could still work towards that therapy dog title despite him being pretty fearful. He had always been a pretty nervous/anxious guy, but throughout our training classes when he was 2-3 years old, he became reactive towards other dogs with increasing frequency, and he even started growling at strangers.
Needless to say, my little "problem child" couldn't be a therapy dog. I worked with several different trainers, discussed our issues with animal behaviorists, as well as our vet, and eventually came to the realization that life was happier for us both if we stayed within Emmet's comfort zone and kept to our routines. Trying to overcome his fears only made things more challenging for us both, and I decided it wasn't worth the stress for him or for me.
I had always hoped to add another dog to my household when I was out of college and living back in my hometown, but Emmet made it very clear that he wanted to be the only dog forever. I brought home a kitten for him for his second birthday, and Sophie became one of E's only animal friends (aside from my parents' lab, Delaney) for the rest of his life.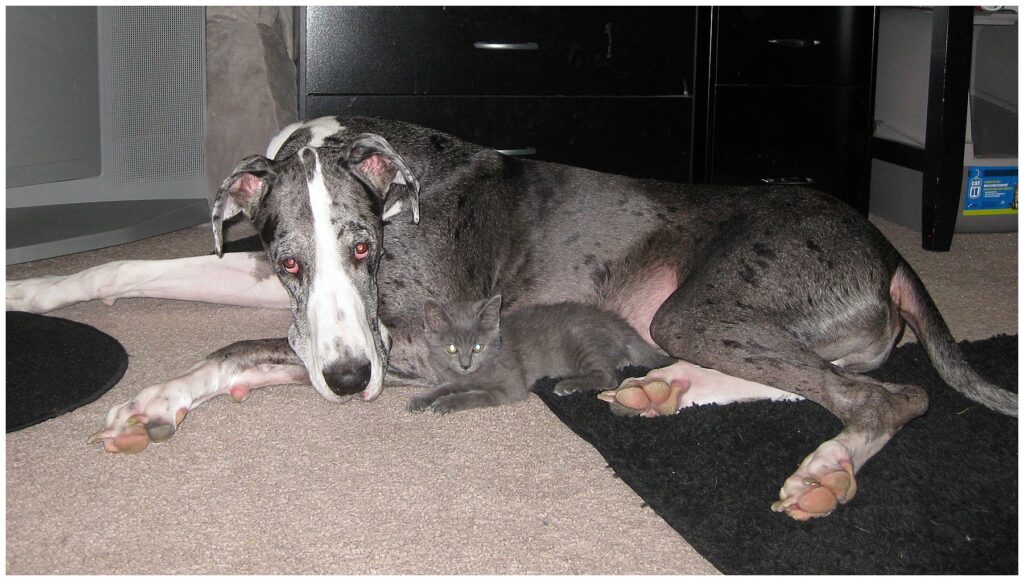 When Emmet was about 3 years old and I knew with certainty that I'd never have another dog while he was still in my life, I started thinking about how I could honor him in the name and in the life of a future dog. I had been told during my search for Emmet years prior, that "the ones with spots are trouble" referring to merle & harlequin Danes. I thought that there was no way that their color could affect their disposition or behavior, but over the years as I became more and more involved in the Dane community, it's kind of undeniable – most of the Danes I know who have had behavioral issues have spots. I wouldn't have traded my little spotted goofball for the world, but I'll very likely never own a Dane with spots again 😉 (Note: many spotted Danes are perfectly friendly with wonderful temperaments – there were many factors that I blame for Emmet's problems, this is just a coincidence I always think is interesting to point out.)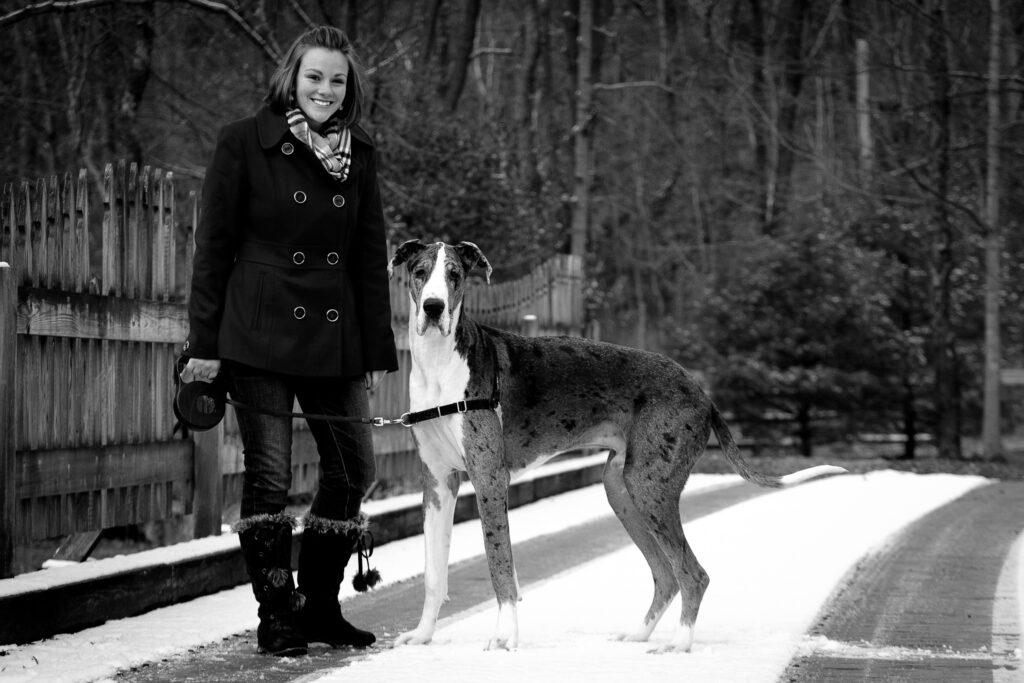 As fawn Danes are said to be the most mellow, I set my sights on a fawn pup to be Emmet's successor. As I said before, I love to have a plan. I would always say "after Emmet, this is the plan, but I hope that's in a very very long time," knowing that no amount of time with my best friend would ever be enough. Also, knowing that losing him would be inevitable eventually somehow made it easier to cope with, and I wanted to be prepared to bring home a happy little distraction as quickly as possible. I wanted to get a girl, because with Emmet being so much trouble, I just wanted to do everything the opposite – Delaney had been the first girl dog in our family, and she's the sweetest little love in the whole world, so I figured I'd bring home a fawn female and she'd be perfect.
I planned to name her Grey, as I often called Emmet "Gray Boy," but wanted to spell the puppy's name with an E for Emmet. I had a vision in my head of people asking me, "Why is this brown dog's name Grey?" and I knew that I'd revel in any opportunity to tell people about my gray boy, my heart dog, the best worst dog in the world.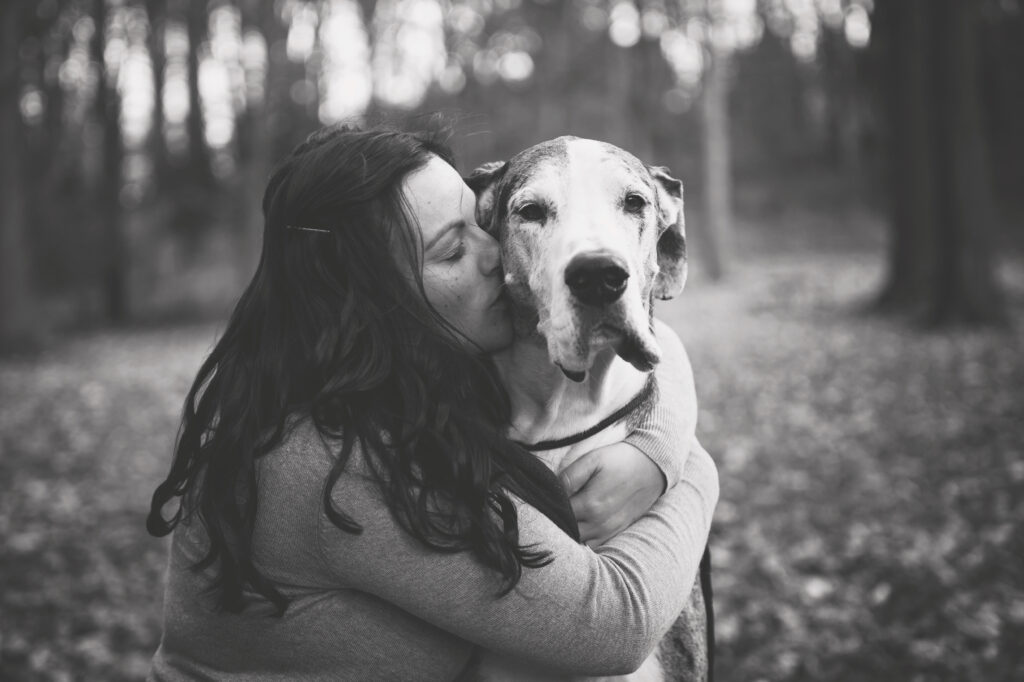 From the time he turned 5 years old and was officially a senior Dane, I was always very aware that every day with Emmet was such a gift and I always hoped he'd make it to ten years old. Just before he turned 8, he started having issues with his hind legs, and we knew that he was in some considerable pain. We started acupuncture treatments (first every week, then every 2 weeks), chiropractic adjustments (once a month), and introduced a medication regimen to keep him comfortable. That last 20 months with Emmet was equal parts exhausting and rewarding. Having a senior dog is an incredible experience; I was so proud of him for maintaining his silly, sweet demeanor (despite his issues with strangers and other dogs, Emmet was THE perfect dog when he was with "his people"), but it was so hard to see him struggle.
We were now visiting his least favorite place in the world (the vet) every two weeks or more, and I'm certain that the last year and a half of his life can be credited to Dr. Doug (more on him here). Emmet had to be muzzled for our visits, but he'd have noticeably more pep in his step in the days following treatments. I'm so thankful to Dr. Doug for giving me more quality time with my sweet boy.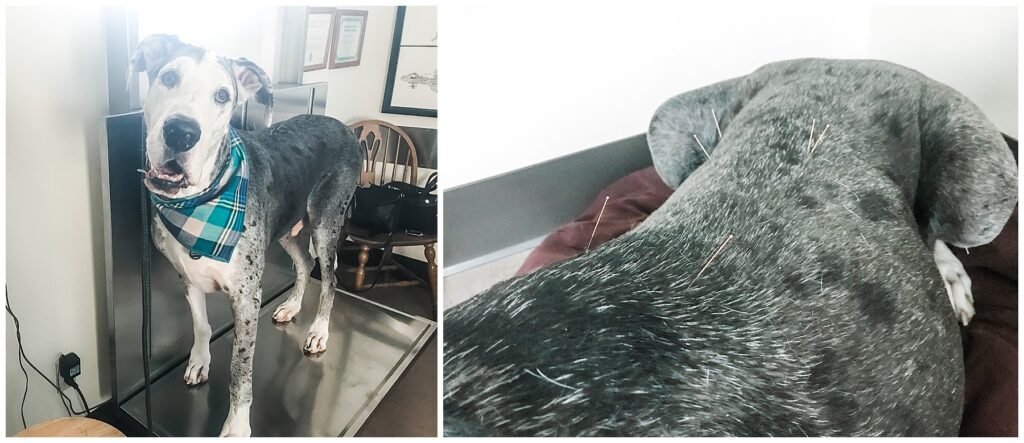 I lost Emmet in January 2020 at 9.5 years old (plus one day), after about a year and a half of old-man struggles with him. The three weeks following saying goodbye to Emmet were among the hardest of my life; I'm not a person who can have an empty house (yes, Sophie was still here, but the presence of a cat is just nothing compared to the presence of a Dane). I had been looking for a breeder since scheduling Emmet's in-home euthanasia appointment, knowing I would desperately need company in those days following his passing.
With timing and location becoming a challenge with so many of the breeders I'd been considering, I felt so beyond grateful to find someone who was not only close to home, but absolutely incredible. Micha at WRF Great Danes had a litter that was ready to go home in early February, and she had one puppy left: a boy. I was upset at first, thinking it wasn't meant to be and that I'd have to keep looking, keep waiting. I had planned for a girl for so long. My mom spent a full day convincing me that the timing was perfect, the breeder was perfect, and that even though I planned for a girl, a boy dog truly does suit me better. I knew that she was right on all of these counts, and we went to meet the litter, along with Grey's mom Greta, grandma Marley, and big brother Arnie.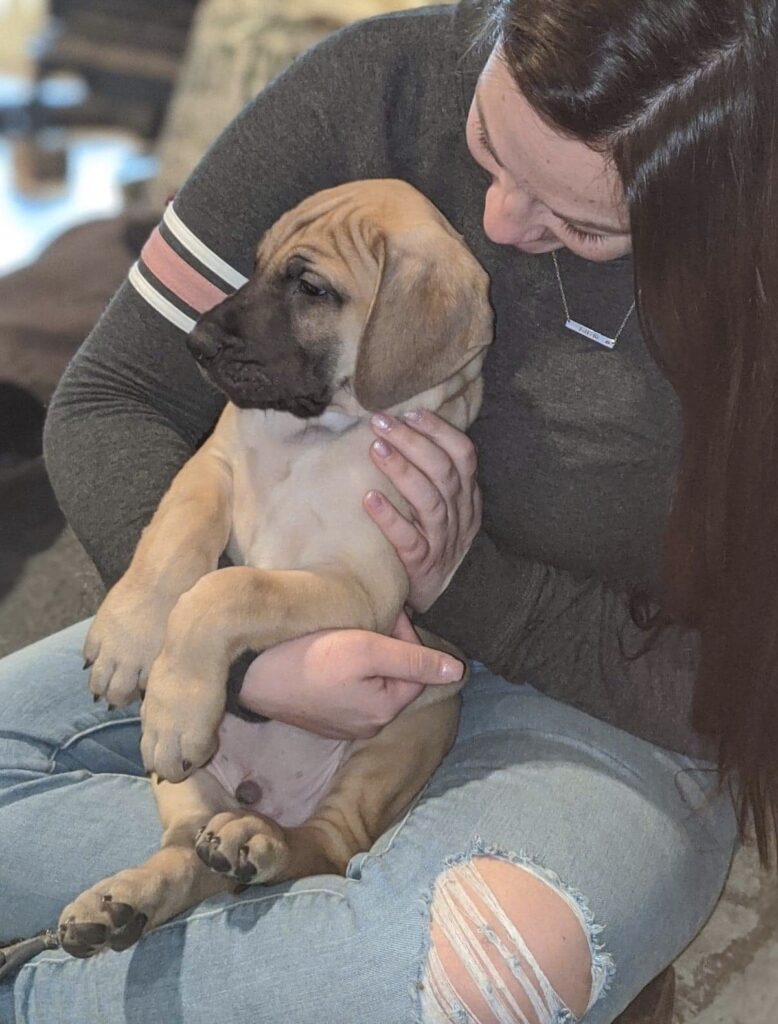 I fell in love with this sweet boy at first sight, of course (who doesn't love a puppy, though, am I right?). He was the most mellow of the bunch, which sounded perfect for me and was exactly what I was looking for (more on that in a future post – turns out it was trickery) 🙂
I can't thank Micha enough for trusting me with Grey. He's been everything I need this year, and I'm so grateful to her for allowing me to be this boy's momma.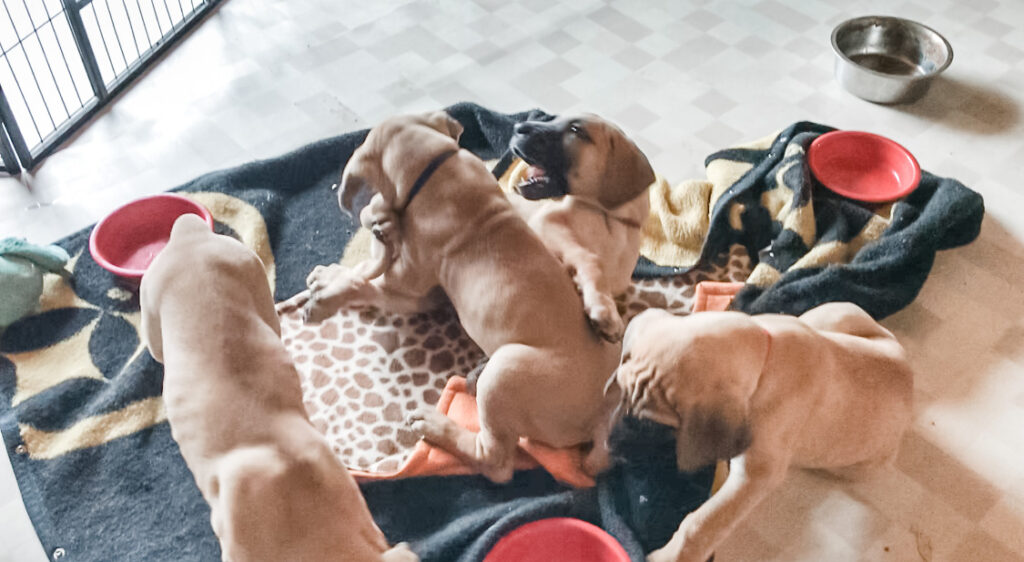 As Emmet was named after Emmet Otter's Jugband Christmas (if you haven't seen it, snag a DVD from Amazon and enjoy it this holiday season because it's the best), his full paper name was "Emmet Otter of Frogtown Hollow." It seemed fitting to name Grey "Otter's Legacy Grey Augustus," because we'll be spending his entire life doing all of the things I could never do with Emmet that I always hoped to do. We're working on prep training for him to be a therapy dog (this is on hold due to Covid, but we are excited to test as soon as we're able). He loves everyone (and every dog) he meets, and I haven't found much that he's afraid of. Grey accompanies me on shopping trips, to patio-seating restaurants, and of course we're trying to use the Covid-19 situation to our advantage with some weekends away since I've had so much time off this year.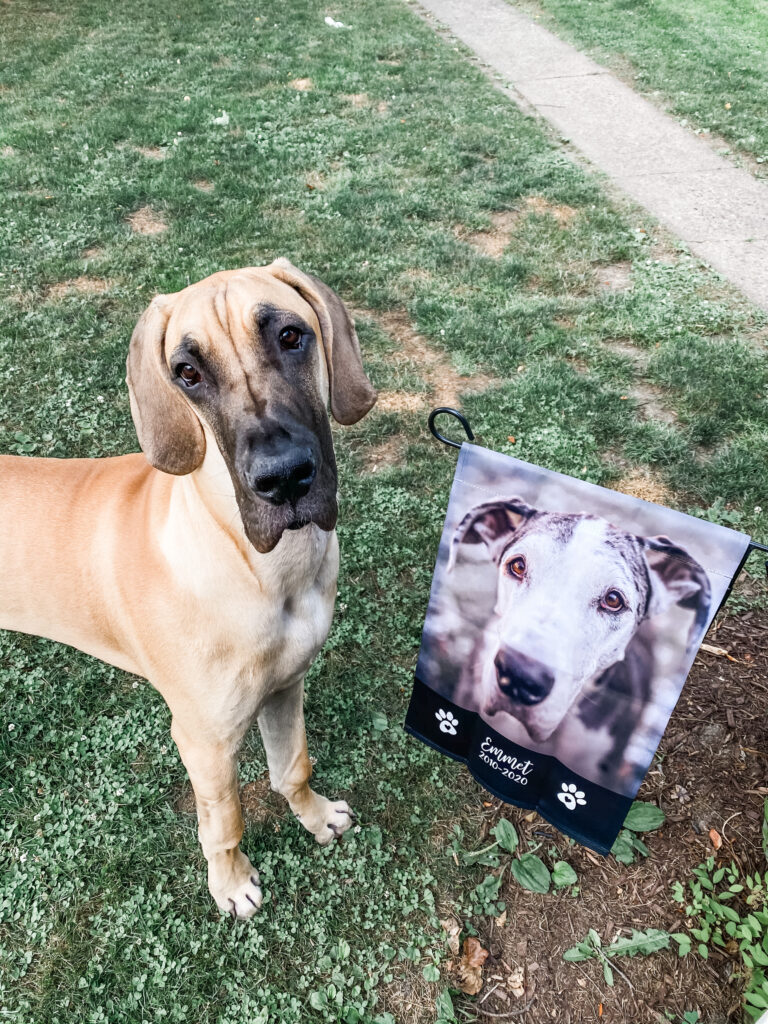 Grey is everything I always hoped that Emmet would be, but Emmet was everything I never knew I needed in my first dog. I'm looking forward to carrying E's heart in mine in everything I do with Grey for years to come. He's the reason for our every adventure.