Raindrops on roses and whiskers on kittens… oh, wait! These are our REAL favorites! Please note that Grey is an ambassador and spokes-puppy for some of these products and companies, so there are affiliate links* (they're marked with an asterisk) throughout this post! This means we earn a very small commission, which helps feed this handsome boy we all love so much. More importantly, also note that we wouldn't share a product we aren't passionate about – not only do we love all of the following products and companies, but we want to shout them all from the rooftops regardless of any discounts or commissions – we promise! 🙂
Let's get to it! In no particular order, here are all of my favorite products & doggie businesses!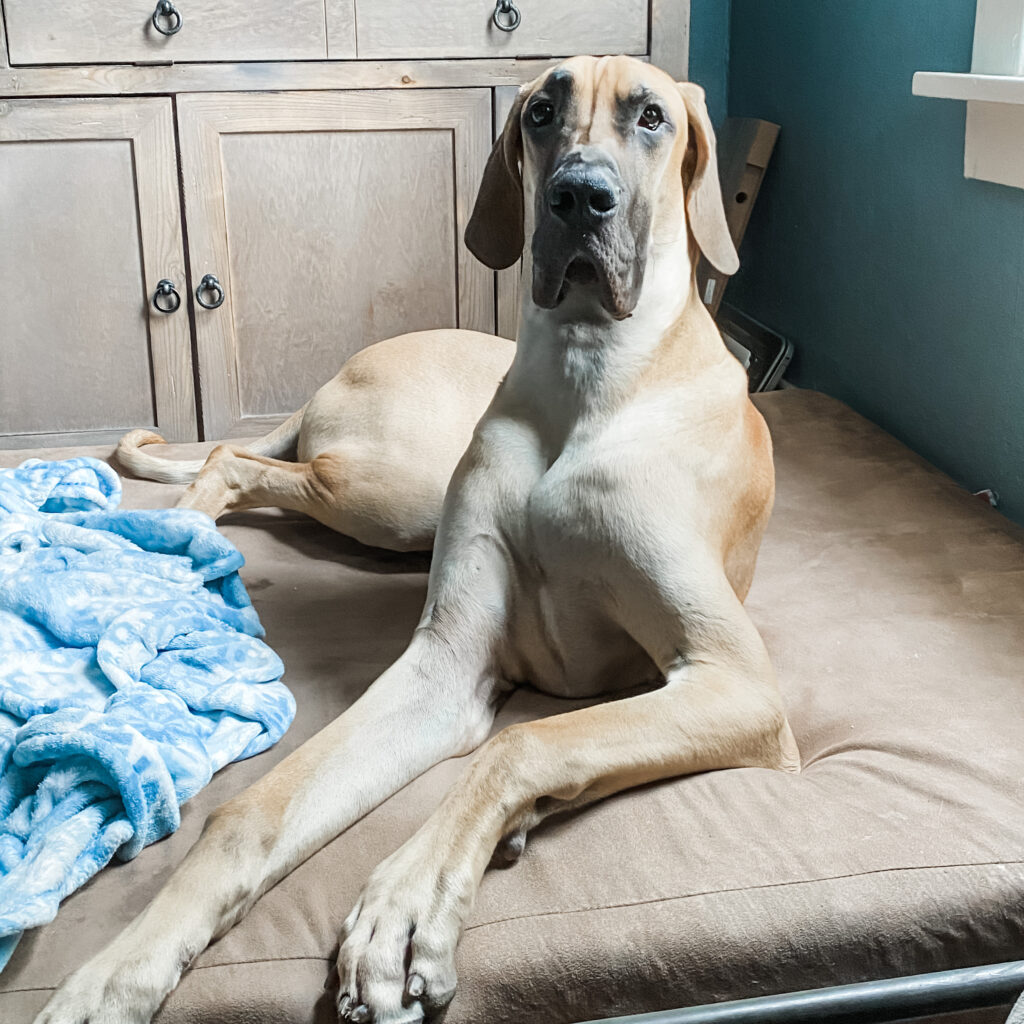 The best giant doggie bed on the market! Momma had bought this for Emmet knowing that it would stand the test of time and that the 10 year guarantee and waterproof inner lining would work well for any old-age incontinence and puppy accidents, making it such a solid investment! These beds may seem "expensive," but not only are they the most comfortable and supportive bed on the market for large and giant breeds, but they are built to last and retain their fullness – it really comes down to be way more affordable than buying a cheap dog bed every few months.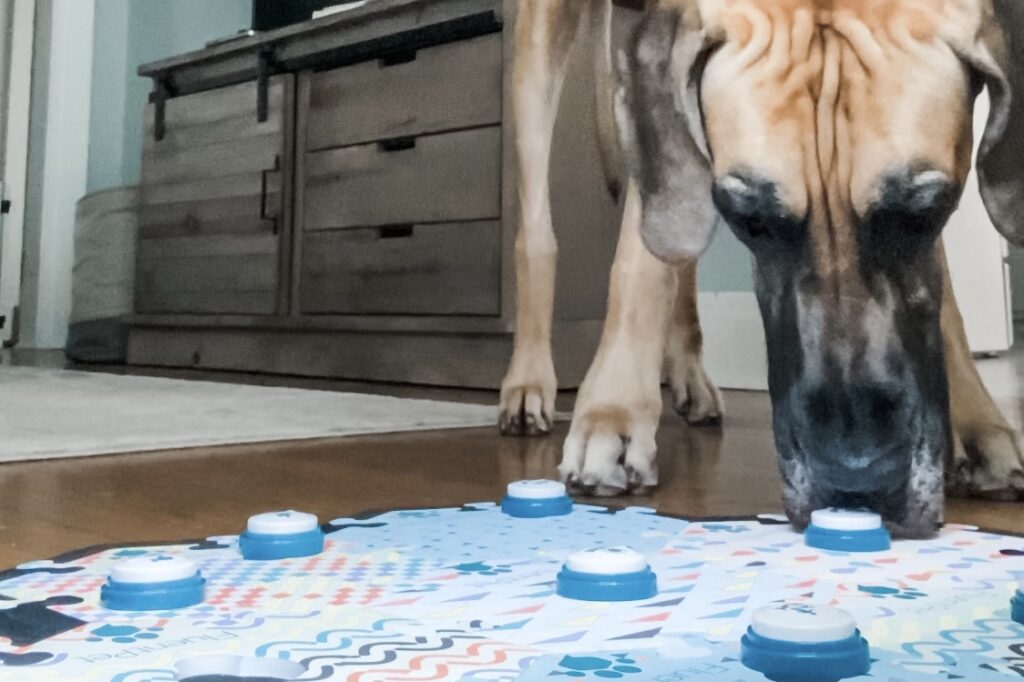 I started learning to talk with FluentPet in February 2022. Momma says it's the most incredible thing to see me communicate my needs and wants to her, and sometimes just my observations! You can check out the hashtag #greytalksback on Instagram to see some videos of me talking and learning!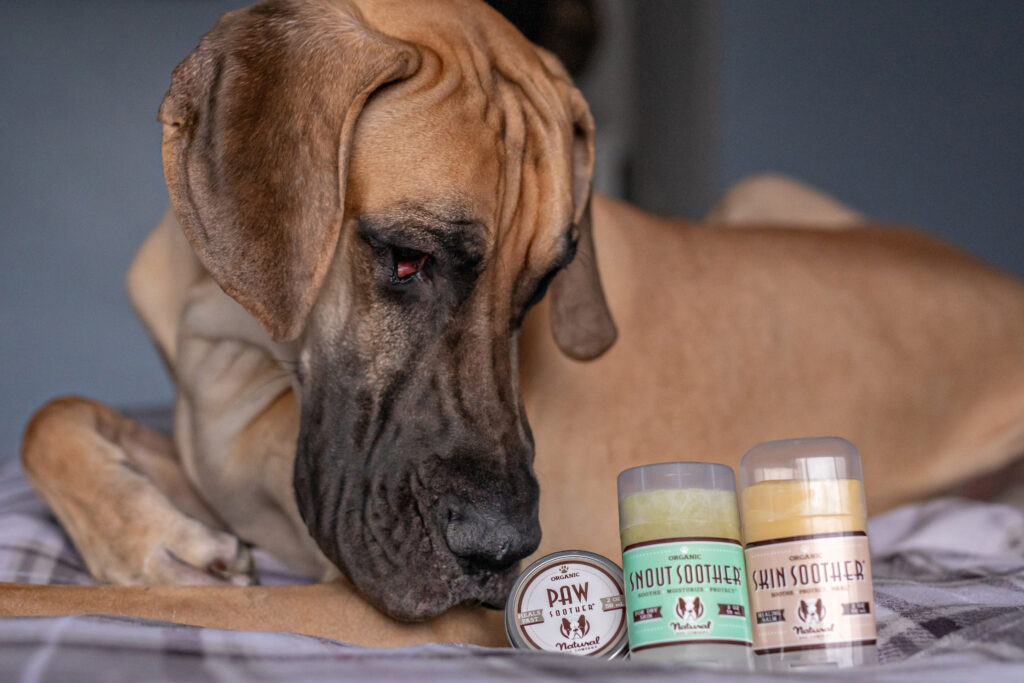 Their Skin Soother is *magical* for any rashes, bumps, or redness, so it was a no-brainer that Momma get me some of their other stuffs, too! We recently started using their salmon oil and joint supplement, also!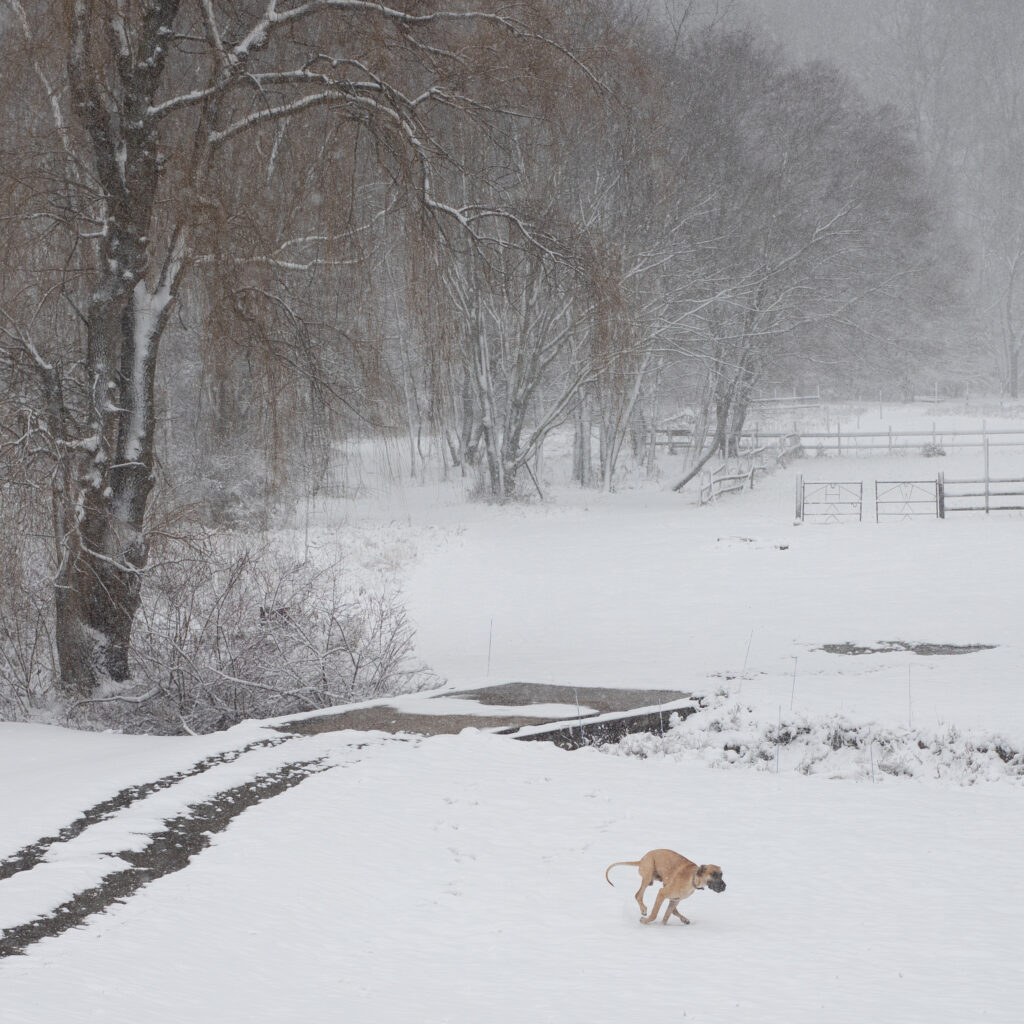 Because sometimes puppies be crazy and accidents happen! I know if I'm ever hurt or get sickies, I don't want Momma to have to spend MORE money on vet bills – I'd rather she buy me toys and treats!
A note from Momma: I used a different pet insurance company with Emmet, and we had positive experiences with them for about a year. Towards the end, the company changed underwriters and became a lot more strict about their payouts, and I knew that I would be shopping for a better company when I got Grey. I spent a full day (seriously a full freakin' day) researching, calling, and comparing the costs, benefits, and policies of alllll of the big/popular pet insurance companies. I settled on Pet's Best and although we haven't made any claims yet (and hope not to for many many many years!), I'm really confident with my choice and love working with them so far. I'd love to save you the time of researching this because I absolutely did my homework – they are the best choice hands down! If you use our link above, Grey gets a $25 gift card to Amazon, so help a pupper out and he can get some treats!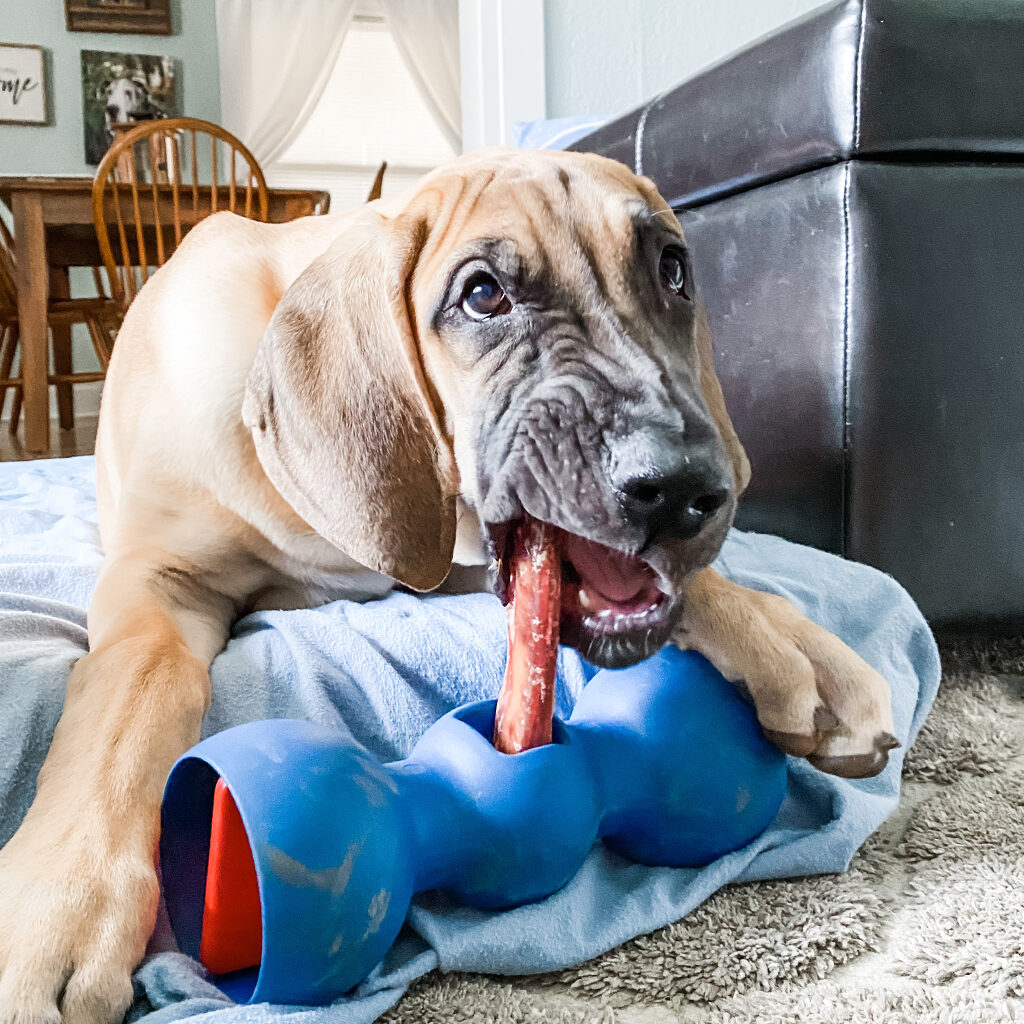 I love chewing on bully sticks, but Momma always used to get nervous that I'd swallow them when they're too big, or worse yet choke on them. (I say she's a worrier, but I guess mommas are like that.) The Bully Buddy holds my bully stick for me so that I can safely chew it – and it's much easier to hold, too!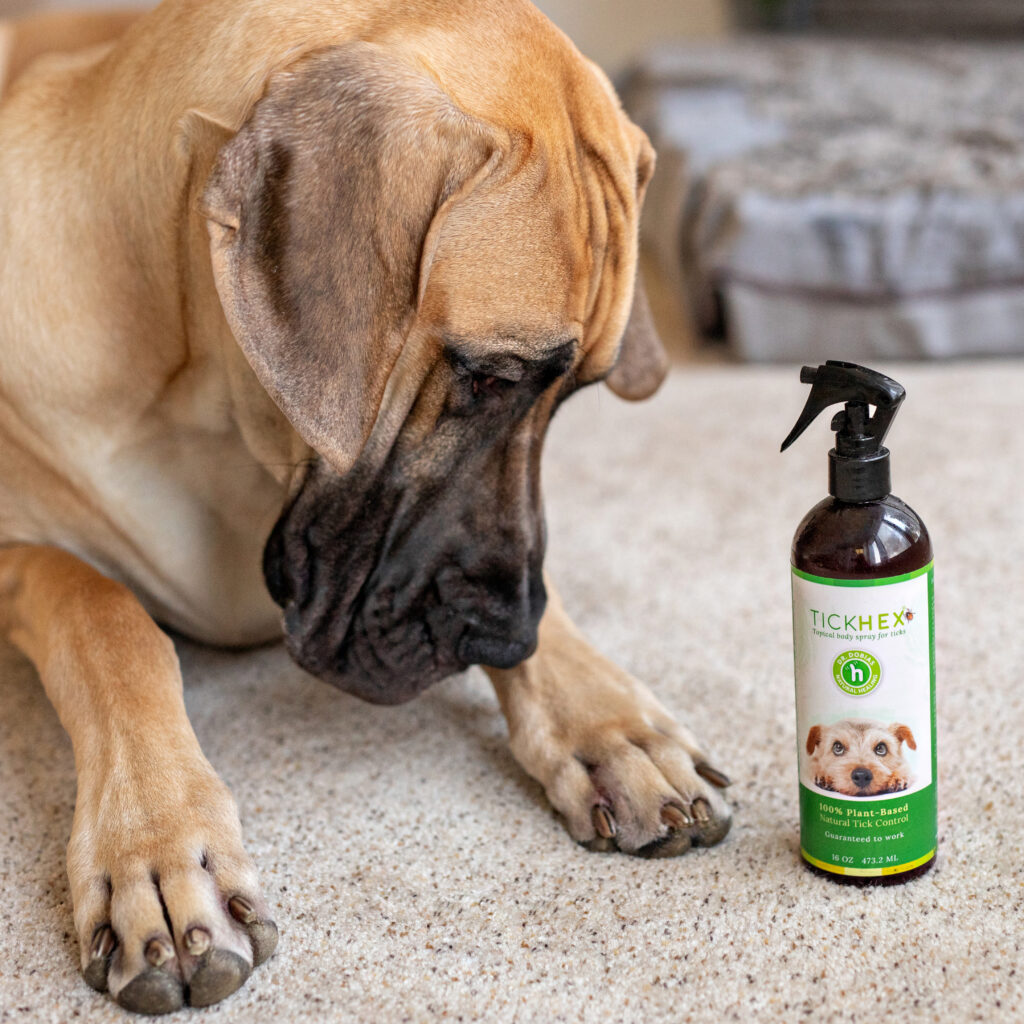 We swear by Dr. Dobias' stuff for flea & tick prevention, we also love their skin spray for wound healing and Momma even uses it on her own boo-boos! If you're looking for an excellent resource on all things holistic pet care, Dr. Dobias is your guy. Check out his website for other natural products and general information. We love his blog & the info we get from being on his email list!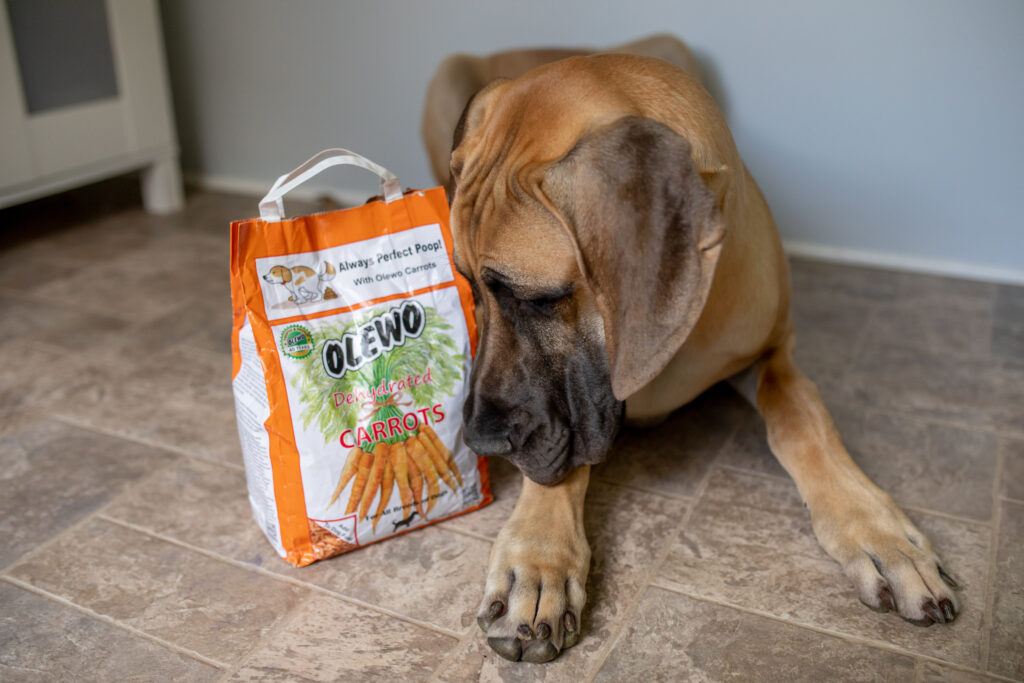 Momma used to feed these to my big brother, Emmet, because he had a super sickie belly when he was a puppy. Even though I'm a much healthier guy, Momma gave me these the very first day I came to live with her because she knows how important this supplement is for digestive health – I just love them because they make my food extra yummy! (Keep scrolling below to see the oil we recommend to mix with this for the right consistency!)
Here's Momma's testimonial on the Olewo website: If there's one product in my dog's life that I will forever shout from the rooftops about, it's Olewo Carrots! I've been buying the carrots for nearly 10 years, and Olewo has a forever customer in me! My first Great Dane, Emmet, had digestive issues as a puppy that I struggled with for months. After a friend recommended the carrots to me, I added them to Emmet's diet and saw an immediate and noticeable change! After losing Emmet at 9.5 years old, I brought home a new puppy, Grey. I didn't even wait to see if the Olewo Carrots would be "necessary" for him – I just added them to his diet the day he arrived. I've seen the benefits of this product firsthand for so long, it's a no-brainer that any dog I ever own will be an Olewo dog! I've recommended these to literally hundreds of dog owners over the years – if you're trying to decide if they're worth buying, there is no question!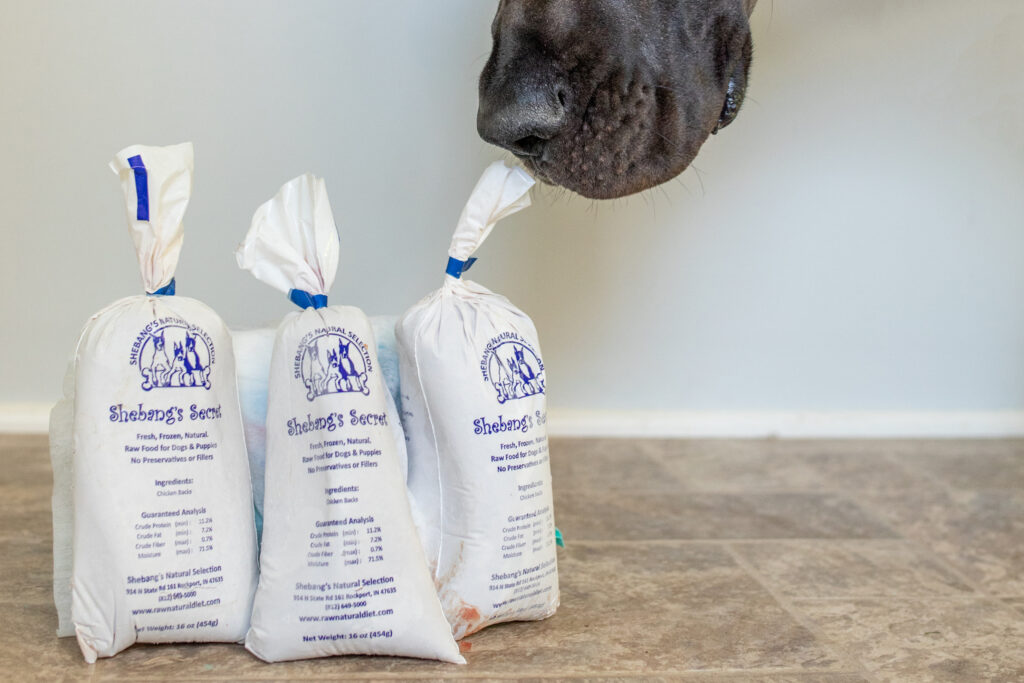 You can read lots more about my raw diet here, but this is the pre-packaged ground raw food that we buy and love!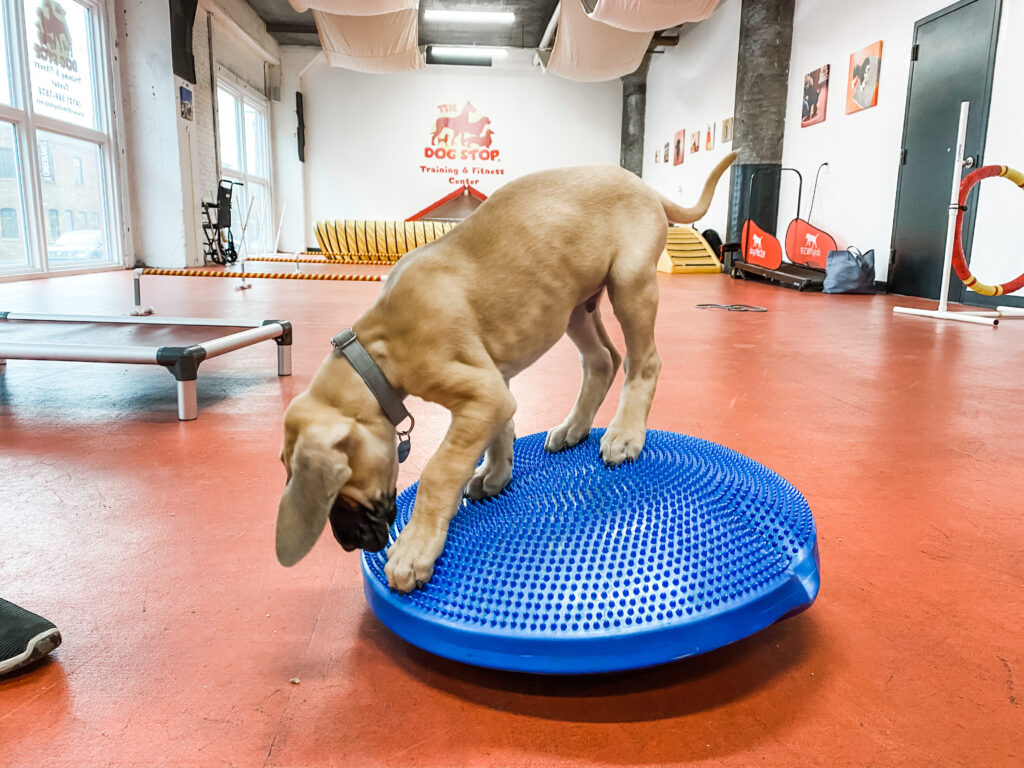 The Dog Stop Training & Fitness Center (Strip District Location)
We can't speak highly enough about Brett, the owner and head trainer at the Dog Stop in the Strip District of Pittsburgh. Even if it's a far drive for you, we absolutely recommend him and believe he's the best of the best! You can read more here about how much Brett impacted my young puppy months, which of course helped to mould me into the wonderful boy I am today!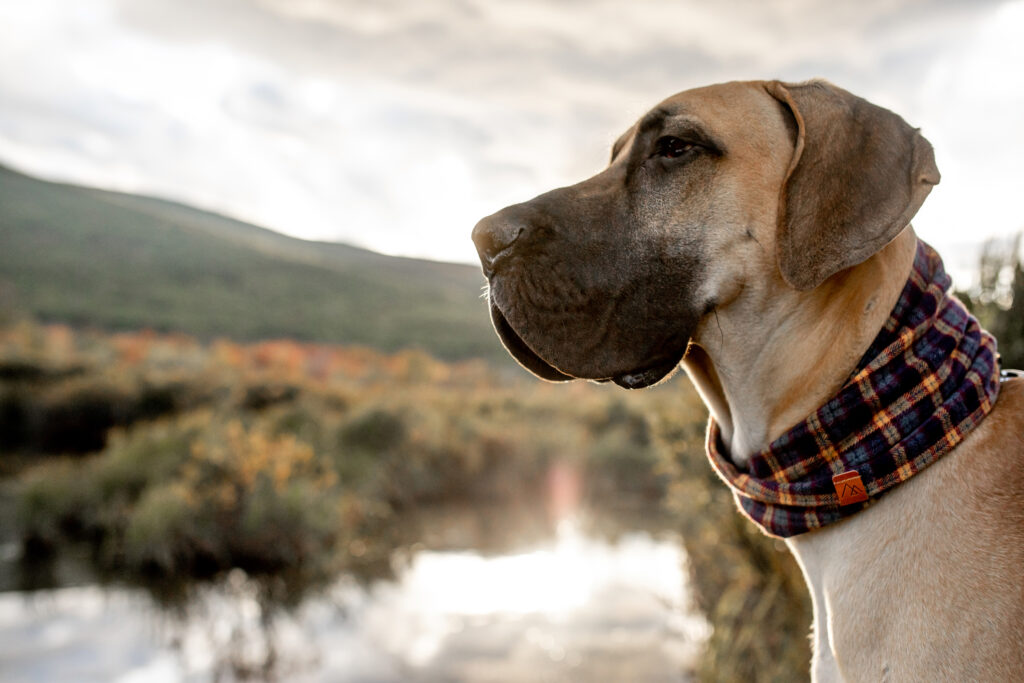 I love looking fashiony everywhere I go, so if it's not summer time you can probably catch me in a scarf! Every single product from Pacific Hound is made with so much attention to detail – Momma hasn't found anything that compares to how nice these scarves are! Not to mention, these guys (er, ladies! Pacific Hound is an LGBTQ+ woman-owned business that we love to support!) love giving back, and we love them extra for that!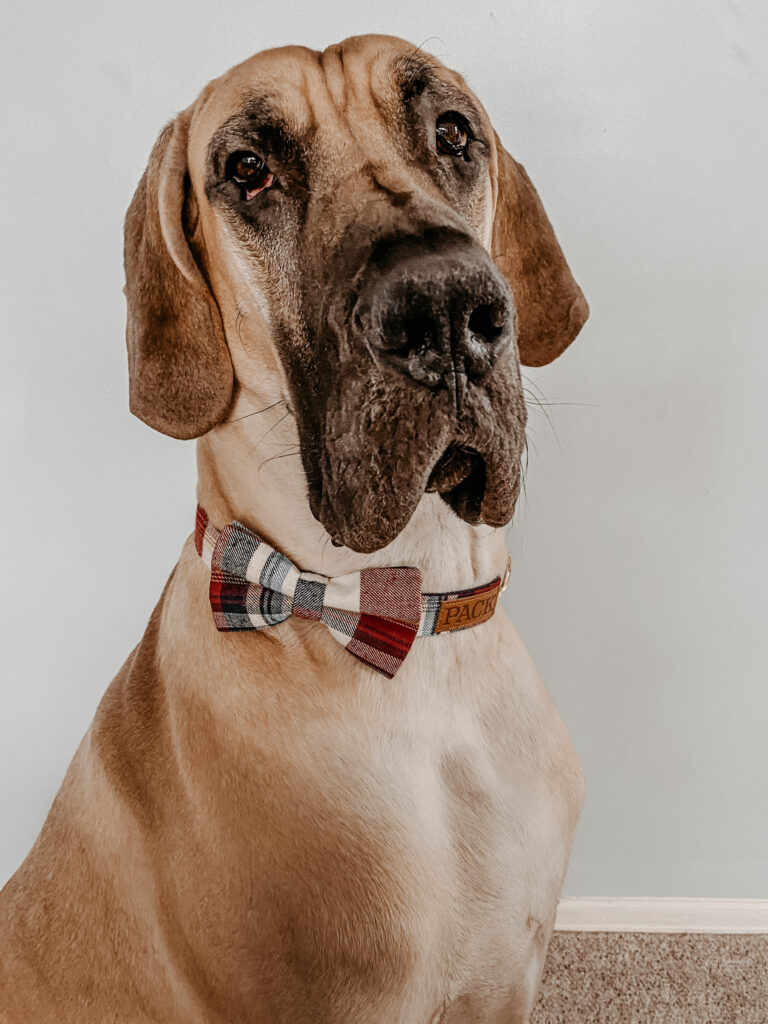 Pack Leashes – use coupon code GREYTHEGREATDANE
We found these guys through Instagram and they make a great product – how dapper am I?! Momma says these are great quality, too. Be sure to use my coupon code, as this is just a normal link & won't get you our discount!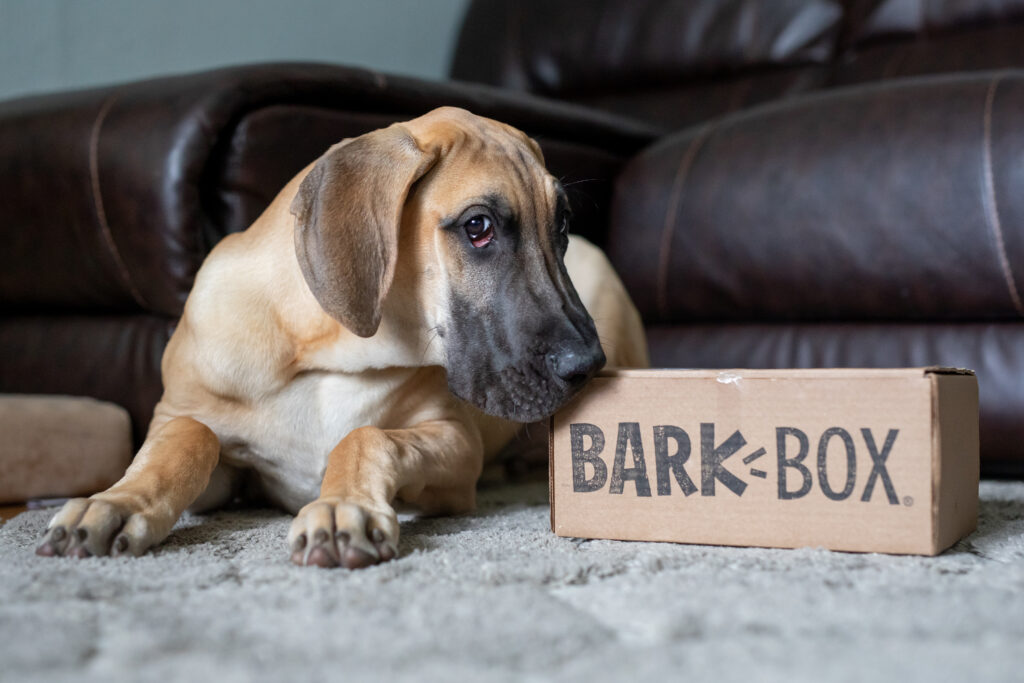 Who wouldn't love getting toys and treats in the mail every month?! This one's a no-brainer. Sign up using my link, and I'll get extra goodies!!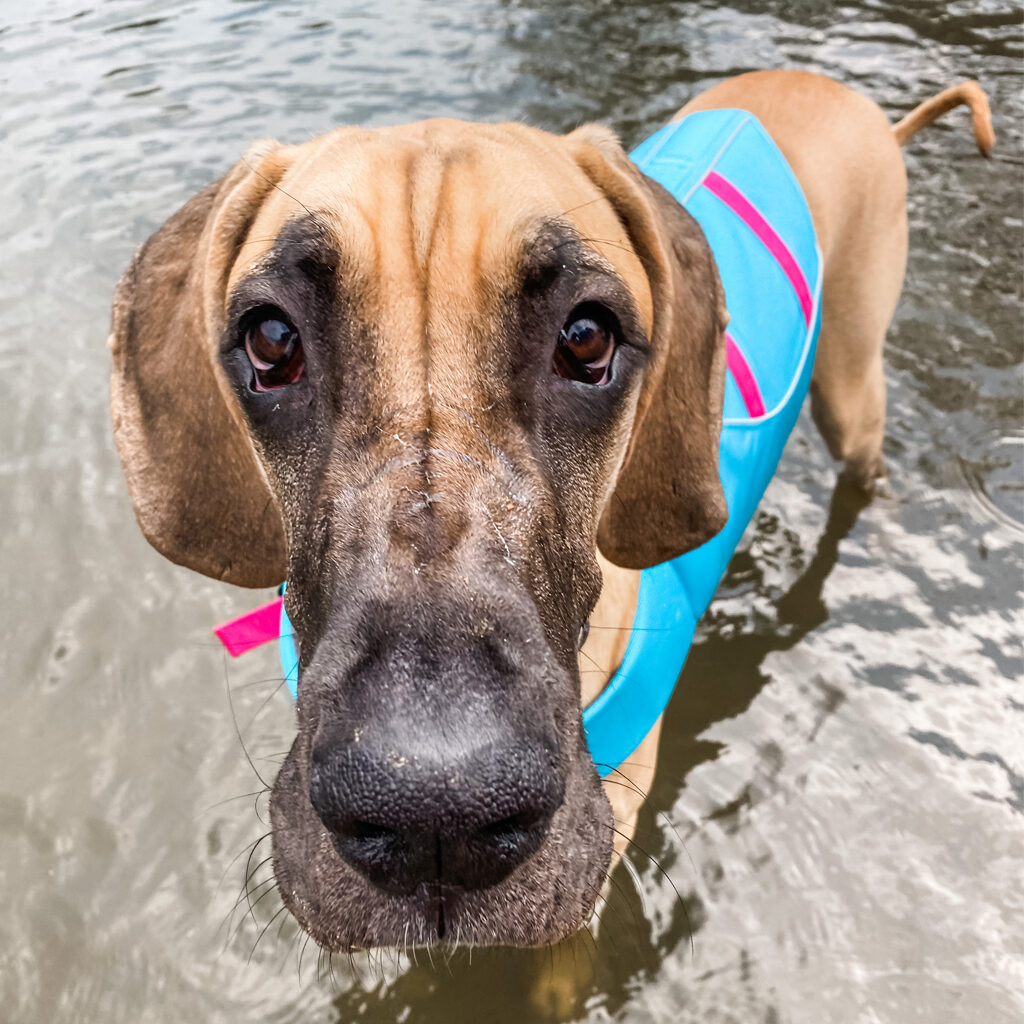 This is where momma got the stylish life jacket to keep me safe when we go swimmin'!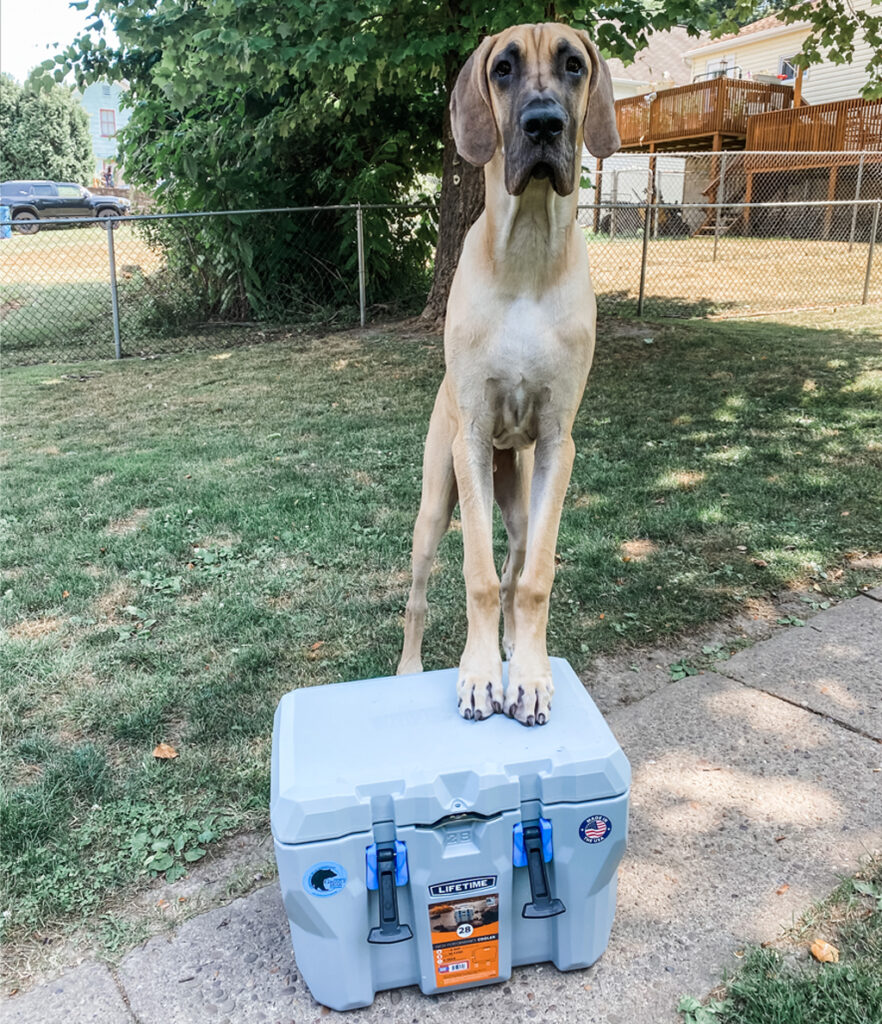 We absolutely love this cooler for traveling with raw food! We used the downtime in 2020 to do lots of (affordable) travel with many camping trips & overnights at small AirBnbs – this thing was a MUST on these trips! It kept things cold for days and held ICE for 3+days in 90° heat! Note: they tend to be cheaper than the website listing at Walmart. We scored this one for $78.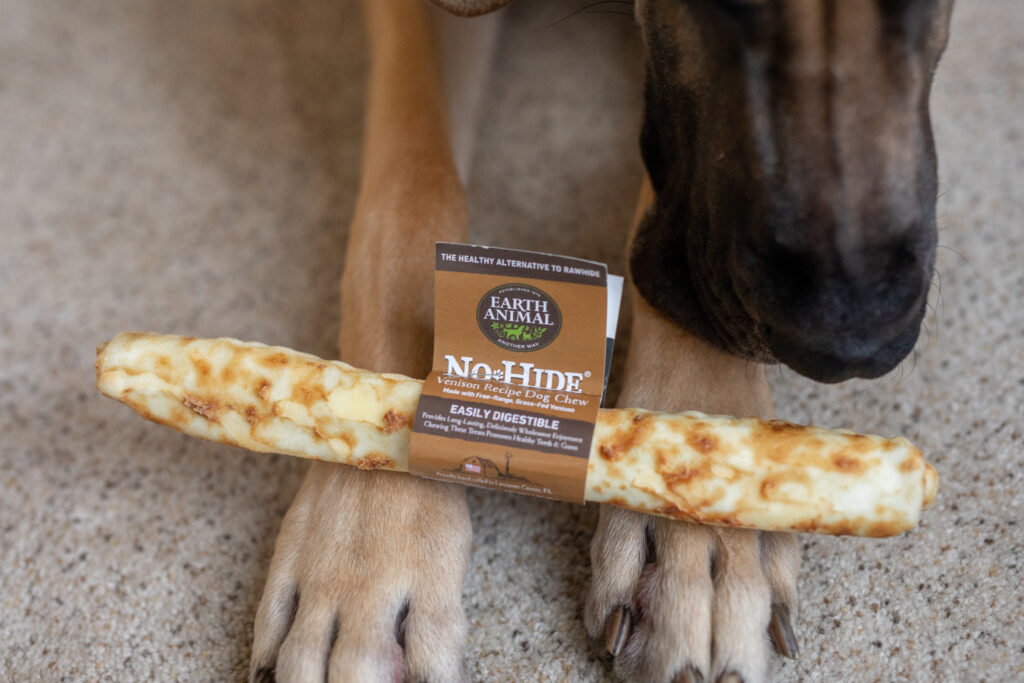 We absolutely love these natural rawhide-free chews. Momma's client sent me some of these as a gift when I was just a wee little shark puppy, and she says they were a life saver. I just say they're delicious and so fun.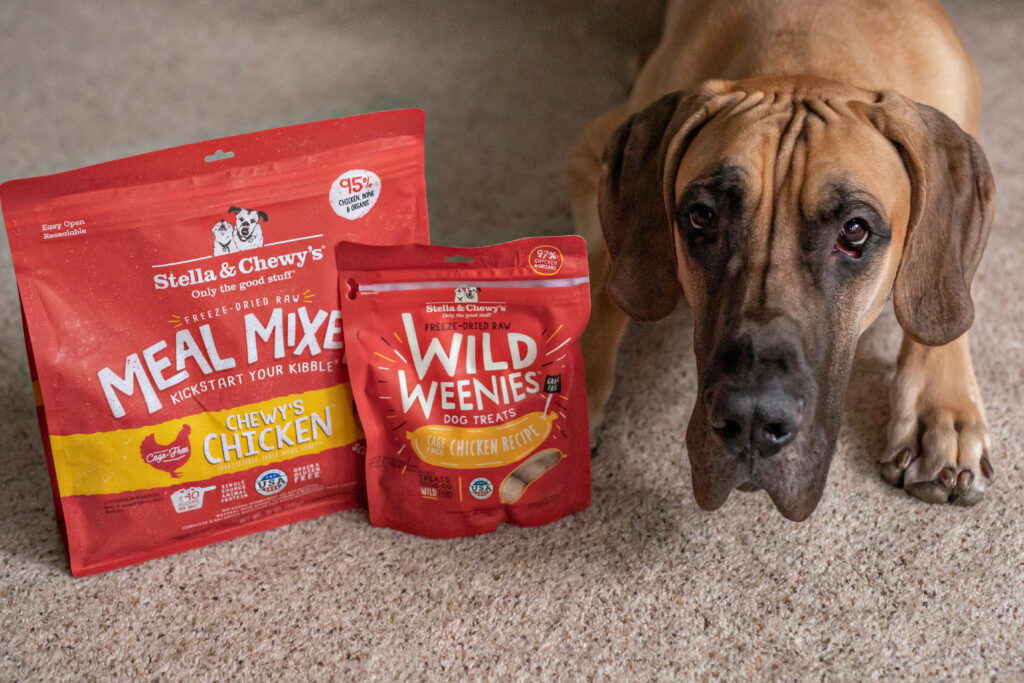 We love these freeze dried raw mixers and use them as training treats! They're super yummy AND super healthy, and Momma doesn't have to worry about me eating too many of them since they're technically a food!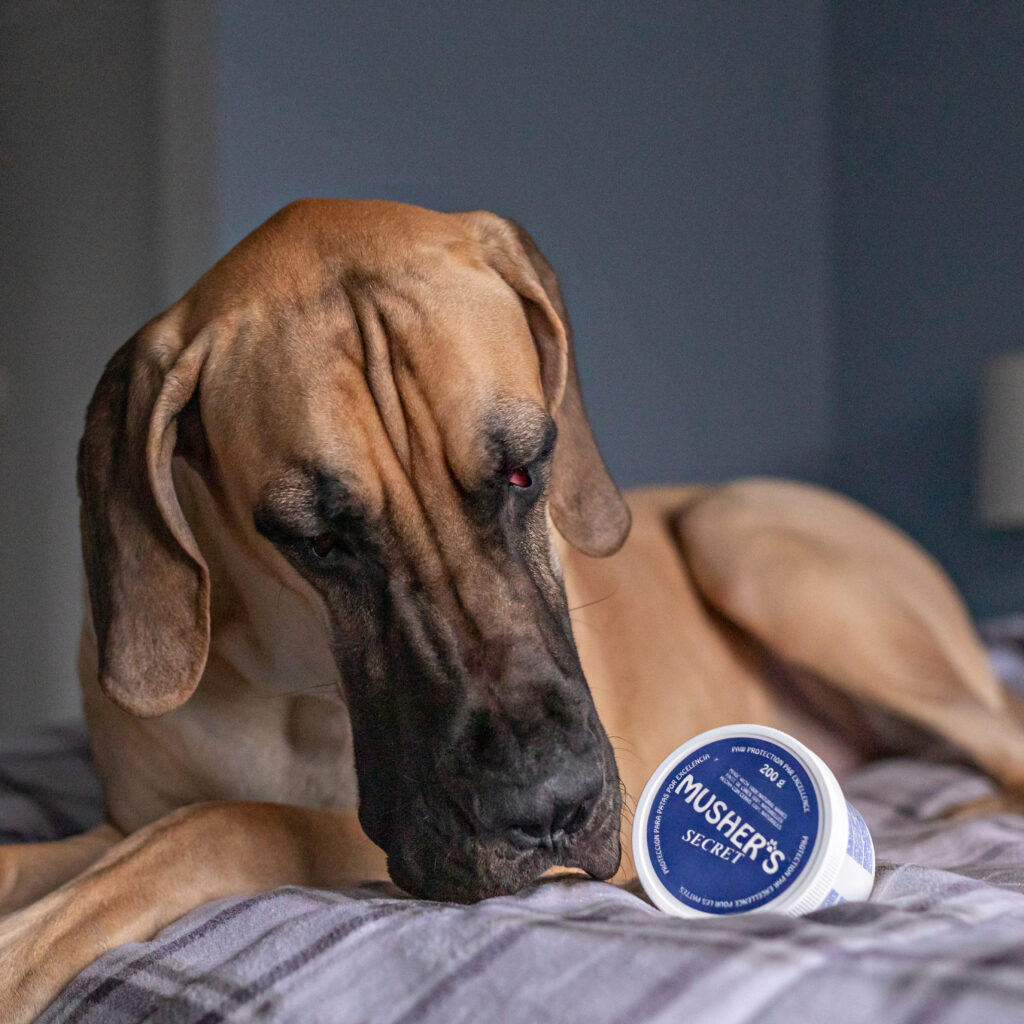 This stuff provides my paws protection from the elements in any weather! In the summer, we use it when I'll be walking on hot blacktop or sidewalks (although of course we avoid this as much as possible!), and in the winter it keeps the salt and ice from hurting my feets! A guy's gotta keep healthy feets, you know?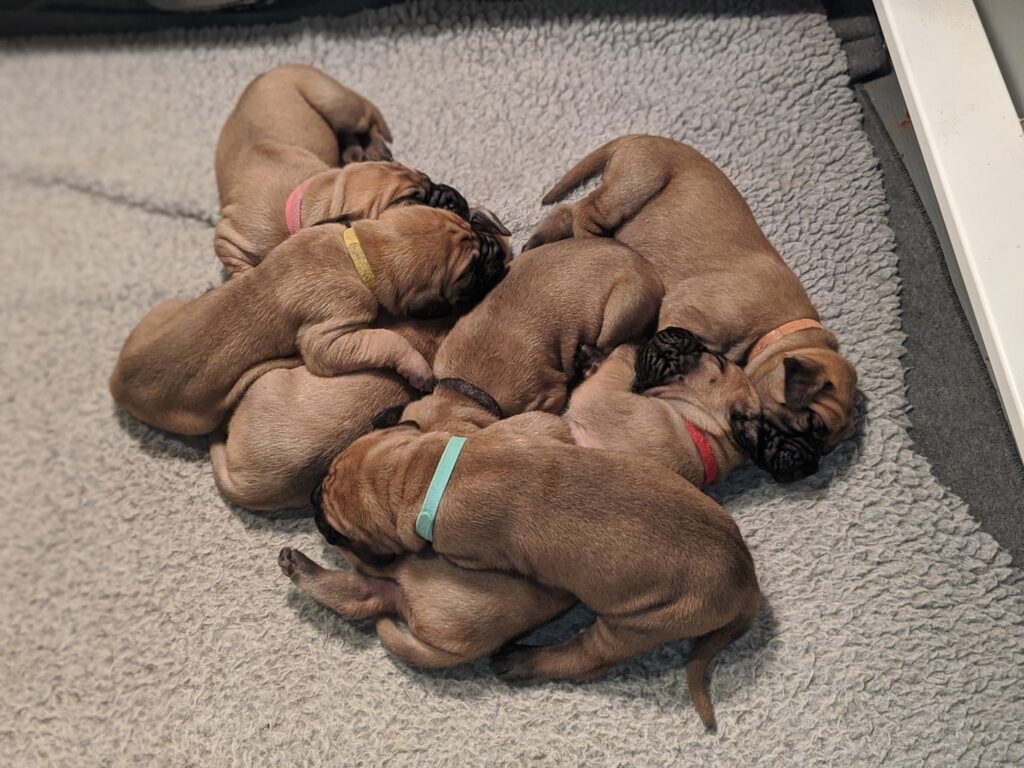 My fur-momma lives at a place called WRF Great Danes in Venetia, PA (and so does my grandma, who is 9 years old and in perfect health!). That's where I'm from! Momma talks every freakin' day about how amazing my breeder, Micha, is and what a wonderful job she does breeding and raising puppies! That's me in the yellow collar on the left 🙂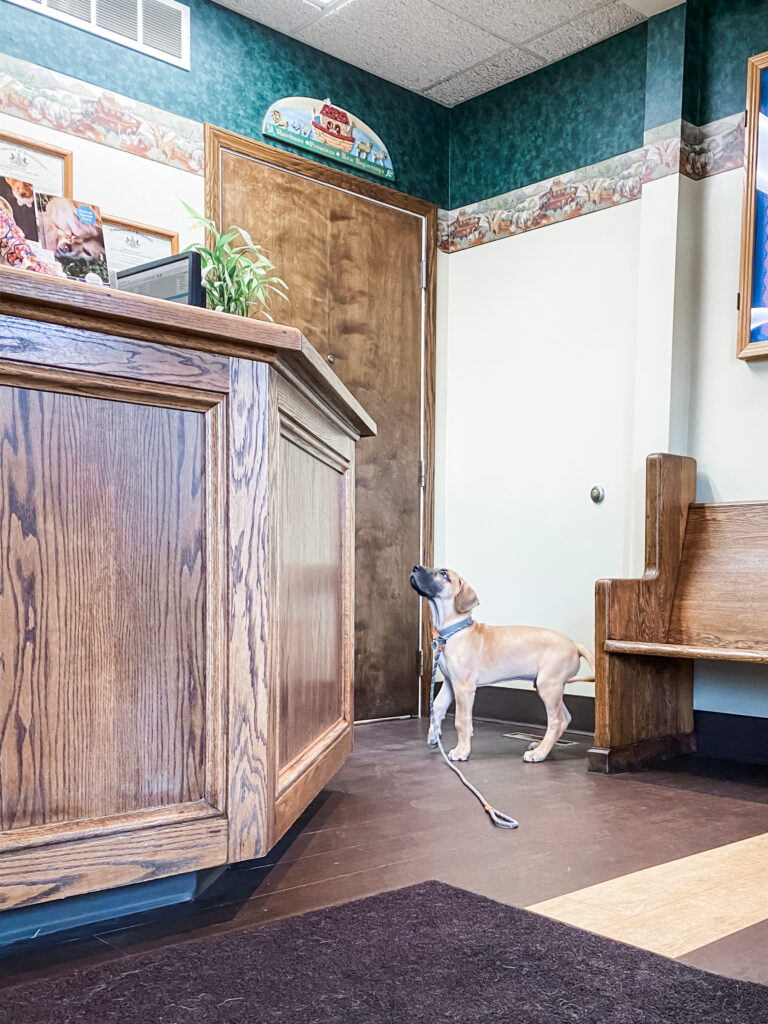 Dr. Doug at Beaver Animal Clinic
Dr. Doug is simply the best vet ever – you can read lots more here about how much we love him and why!